Victor K. Sharma
---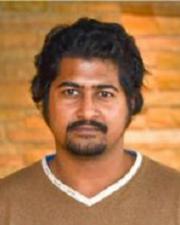 Graduate Research Assistant
Graduate Teaching Assistant
School of Engineering, Chemical and Petroleum Engineering
Contact Info
Learned Engineering Expansion Phase 2, Room 2447
Lawrence
1536 W. 15th Street
Lawrence, KS 66045
---
Biography
—
I received my Bachelor's degree in Chemical Engineering from West Bengal University of Technology, India, and my Master's degree from the Indian Institute of Technology Guwahati, in 2016 and 2019 respectively. At KU, I am working under the guidance of Dr. Alan Allgeier on enzyme catalysis to develop a feasible method to produce acetaldehyde from corn based ethanol. Enzymatic process is more sustainable than conventional chemical methods and would produce a higher value product in our case.
As a GTA, I have worked with Dr. Allgeier in CPE 611: Unit Operation Design and currently I am working with Dr. Gehrke in CPE 525: Heat and Mass Transfer. My career goal is to establish myself as a research scientist, preferably in the area of green chemistry and sustainable engineering.
My hobbies include reading, singing, cooking and sports activities like swimming, tennis and badminton.
Education
—
M.S. in Chemical Engineering, Indian Institute of Technology Guwahati (IITG), Guwahati, India
Chemical Engineering, West Bengal University of Technology, Kolkata, India